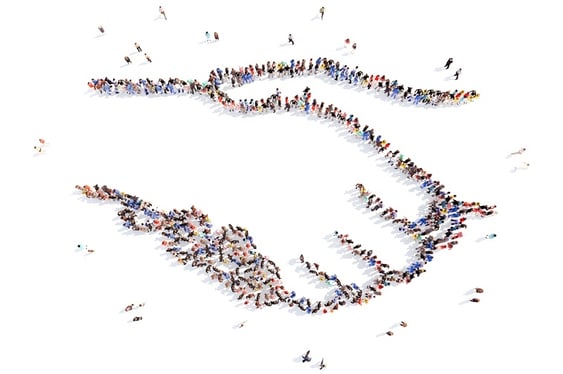 In order to successfully achieve your enrollment goals, your marketing department must work in alignment with other departments within your school, specifically admissions. If the departments are not fully aligned, time and funds can easily be misplaced in pursuit of overlapping programs or misguided goals. When marketing and admissions come together as one, projected results and ROMI (Return on Marketing Investment) can be determined. This allows leaders to assess the success of campaign or project on enrollment revenue as well as the individual goals both departments may have had.
Let's take a look at HOW this partnership can work.
Ask the hard question, "Are you going to take responsibility for this." With all the heads and hands in your marketing and admissions departments, it is possible to have too many ideas. Especially if your marketing function is decentralized, you may find funds going to experimental campaigns, or simply wasted in on-the-clock meetings with other departments to approve or reject proposals. Rob Westervelt, EVP of George Fox University's Marketing & Enrollment Department, suggests asking a simple question, "Are you going to take responsibility for this." If the proposal does not work, or does not result in tuition revenues, is the individual in a position to take personal responsibility? Often times, the answer is no.


"You cannot have responsibility where you do not have authority."
- Rob Westervelt, EVP Marketing & Enrollment, GFU
Establish a position responsible for the achievement of bottom-line goals that both departments report to. Proponents of a centralized marketing structure recognize that the idea of having admissions and marketing report to the same person might not be readily accepted within your institution. However, by uniting the departments under the leadership of a role such as a Chief Enrollment Officer or Chief Marketing Officer, marketing and admissions can more efficiently integrate their processes to increase enrollments for your school. With a head officer to oversee proposals and take final responsibility for approving operations, the departments will experience fewer instances of campaign overlap, contradicting goals or wasted time and resources.
We recently addressed this issue in greater depth during our free webinar titled, "Settling the Debate on College Marketing: Why Centralized Marketing Under the Chief Enrollment Officer Increases Enrollments." If you are interested in learning about the "piles of gold" that can result from centralized marketing, and how to implement it, click here or the link below to download the free webinar recording.
To stay up-to-date on our latest blogs and content offers, SUBSCRIBE to our blog posts HERE.