By Vance Pascua on Feb 15, 2017 3:00:00 PM
Value Based recently conducted a national survey of private colleges and universities measuring both their need and readiness to engage in integrating consultive sales best practices within their admissions department. Of the admissions, marketing, communications and enrollment leaders who responded to the survey, 62% of those who responded Agreed/Somewhat Agreed that their admission counselors are calm, confident, and courageous when closing or asking for an enrollment deposit/commitment and 56% of those who responded Agreed/Somewhat Agreed that they do a good job of personalizing how they message their school's distinctives and differentiators to individual prospective families.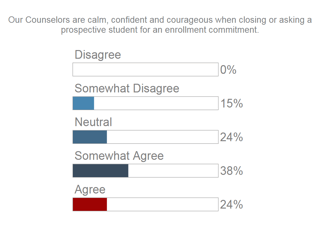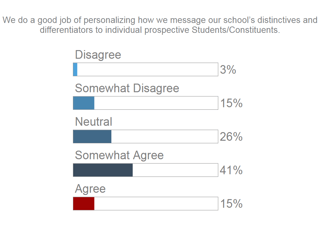 On the other hand, only 3% Agreed that their yield rates are tracking fine and 64% Agreed/Somewhat Agreed that there is pressure from their school's leadership to do something different in admission to increase enrollment.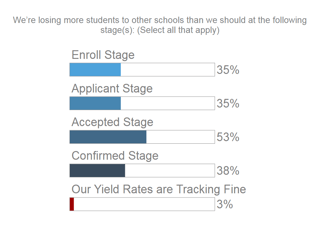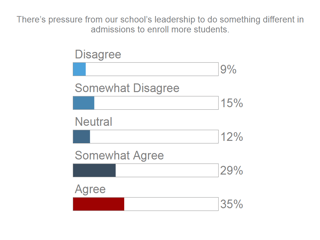 What's wrong with this picture?
We are well aware of the struggles private higher education faces and the overwhelming desire for practical, innovative and affordable strategies for navigating these demanding times. Additionally, 53% of those surveyed Agree/Somewhat Agree that integrating consultive sales best practices with admissions counseling is consistent with their school's culture, while 41% indicated that counselor turnover would be reduced if they invested in consultive training.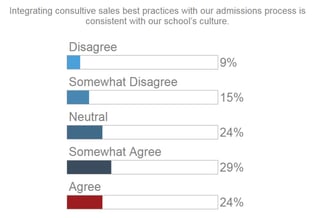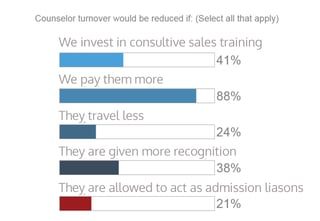 During the last 5 years of my almost 30 years sitting where you are in enrollment management, my perspective on value(s) based, consultive sales best practices enlightened and motivated me to challenge the norm of my admissions purist roots. In an earlier blog, I expressed my desire "…to provide my colleagues with essential tools to empower and equip not only their…admission…teams, but also the university as a whole, to promote, matriculate and retain the desired incoming class through innovative admission and recruitment sales and marketing initiatives."
I hope this blog helps you assess where you are as a school when it comes to Sales Readiness. If you'd like to take the assessment and receive a copy of the aggregate survey report, along with your school's scores, please click here: