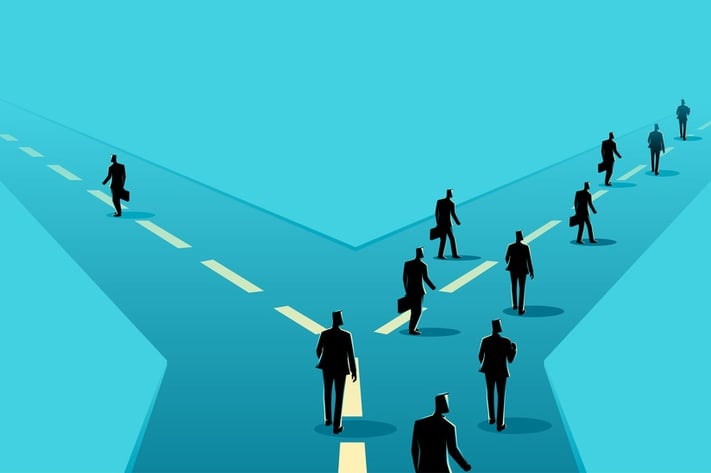 Choosing a 4-year university is a big decision with a lifelong implications. Add to that the fact that prospective students are looking at multiple schools, majors and locations to make their college choice and you can understand why the admissions process can be overwhelming for some. Successful marketing is more than just capturing their attention. It's also about rising above the noise level of the competing messages bombarding them.
In order to fully understand your prospective students and their needs, and then match your school's marketing communications messaging to them, you must have a holistic view of the entire enrollment cycle. That means designing marketing collateral (digital and traditional) and communication flows that are aligned and synergistic with your admissions processes. If marketing and admissions are not fully aligned, there's a chance the messaging to the prospective student will be unclear or disjointed, causing some of them to not respond and eventually slip between the cracks. Let's take a look at how the marketing process works, from a higher ed marketer's point of view.
The 4 stages of the marketing cycle, from the marketer's perspective:
Awareness

: You must understand y

our target audience and their individual needs

.

Example:

Creating personas for each type of "best fit" prospective student that you target, including your perception of their issues (needs, desires, objectives and goals for attending your school).





Attraction:

You want to c

reate and present appealing content to address your prospective student's issues as described above.

Example:

Creating blogs, videos and content downloads for your prospective students and promoting them through paid advertisements and/or organic and SEO practices.





Ascension:

At this stage you become aware of the prospective student's name, contact information and interest area. The prospective student can now be added to the appropriate communications flow based on their interest level.

Example:

The prospective student signs-up through a form on a landing or contact page. You receive the contact information and can view the pages and/or content they interacted with so far.





Action:

Here is where you, as the Marketer, hand-off the information to the admissions team. Ideally this valuable information on the prospective student's issues, interests, priorities and preferences is transferred digitally from the inquiry form to your school's CRM and/or marketing automation platform.

Example:

A prospective student has earned enough lead (best fit) points to be considered "admissions-qualified" and is assigned to an Admissions person responsible for follow-up.
You might notice that the marketer approaches the first two stages, Awareness and Attraction, blindly. At that point in the marketing cycle, you are unaware of a specific student's interest, only gathering anonymous information off web page hits or blog read counts. It's essential to have a strong picture and persona of the prospective students you are looking for in order to create content that attracts and is distributed in an appropriate channel that offers easy access.
The final two stages, Ascension and Action, require your marketing department to work hand-in-hand with the admissions team in order to ensure a clean, smooth transition of the information from one department to the other. There are many ways to ensure marketing and admissions alignment within your institution, from group meetings to specific qualifications for your prospective students.
Of course, there are many ways of seeing everything. While it's useful to isolate the stages of the marketing cycle from the marketer's perspective, it is also important to understand how your prospective student is experiencing the process.
In our next blog, we'll explore how the marketing cycle looks from the student's perspective, and how to identify which stage your prospective student is in.
SUBSCRIBE to keep up-to-date with our blogs and content offers.