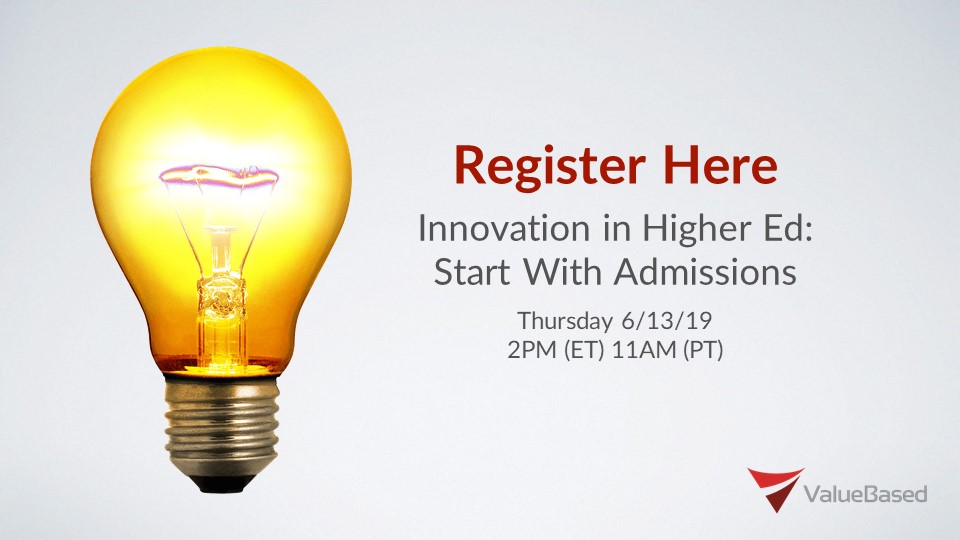 ---
Rarely have we received reviews sent in during a webinar. The Innovation webinar was an exception! So back by popular demand, is this live encore presentation of last month's webinar titled: Innovation in Higher Ed: Start with Admissions.
Join us on Thursday, May 31st at 2PM (ET)/11AM (PT) when Rob Westervelt, EVP of Innovation and Empowerment & former EVP of Marketing & Enrollment at George Fox University (GFU), and Jim Allen, Founder/Principal of Value Based, will team up to present how innovation within the GFU Admissions Department has led to five consecutive record Freshman classes since 2012.
In this session, Rob & Jim will present:
Ten innovative best practices that GFU has implemented since 2012, leading to an increase in yield from 78 to 142 enrolled students per counselor

The four stages of a high-performance innovation model

How to innovate by defining your desired future state and working back to your current state

How to create a culture of execution that propels growth and leads to transformational change.
We hope you can join us on Thursday, May 31st at 2 PM (ET)/11 AM (PT) for this inspiring presentation.
Click the Button Below to register for the webinar!
To stay up-to-date on our latest blogs and content offers, SUBSCRIBE to our blog posts HERE.