If you've taken our training in the past and would like to recommend it to colleagues, you can now do so! Our online course, Value Based Selling, is now available around the world on Findcourses,com.
<a href="https://www.findcourses.com/training-supplier/value-based-inc/" target="_blank" title="findcourses.com - Value Based Inc.">View our courses on findcourses.com</a>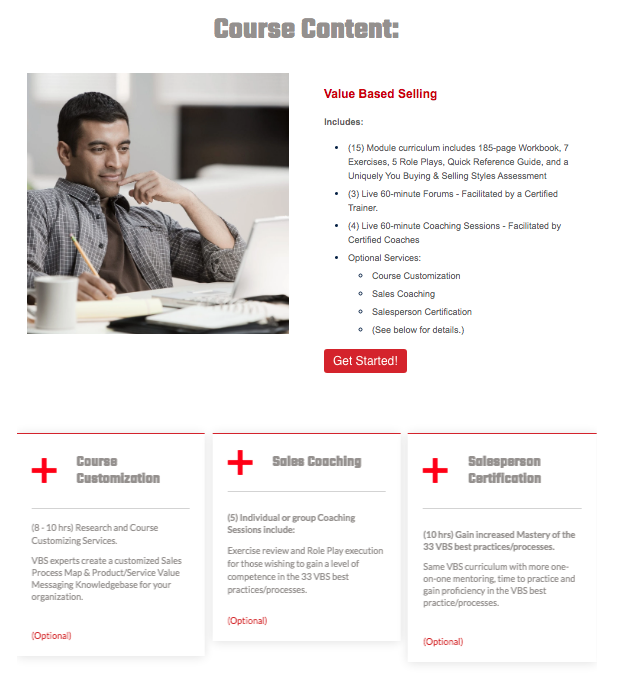 If you're not familiar with our course outcomes, here's the breakdown:
Don't be commoditized! Learn how to create and use value statements and propositions to differentiate you, your product/service and company.

Increase margins by learning how to sell value over price.

Win competitive deals without discounting and/or giving concessions.

Learn how to create value and ROI-based proposals and quotes.

Establish prospect trust and confidence by "personalizing" your messaging.

Learn to discover and align your sales cycle with your prospect's buying cycle.

Learn why qualifying is the key to discovering "value needs" and the appropriate time to close.

Prove the value of your product/service using an issue-solution vs a feature-benefit presentation/demonstration model.

Learn to eliminate objections by "pre-empting" and avoiding "plants".

Learn to match your closing statement(s) to your prospect's buying style.
We'll be adding additional courses we have offered over the past decade, specifically for industries such as software, medical-related, and manufacturing. Look for more updates to come!
For more information visit the Findcourses.com site above, or check out our more info page here: https://www.valuebased.com/en/vbs-consultive-course.